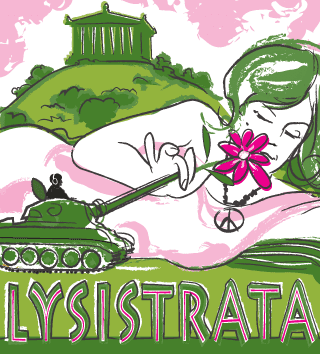 Lysistrata
LYSISTRATA was the premiere production of The Sapphire Theatre Co. We transformed an empty retail space in the Circle Centre Mall in downtown Indianapolis into an ancient Greek theatre for this saucy comedy about sex and war – LYSISTRATA by Aristophanes, from the land of the original naked Olympics. Lysistrata leads an unlikely coalition of women in a crazy scheme to stop the unending Peloponnesian War. Our modern adaptation of this ancient play brought to light the timely themes of love, democracy, war, protest, patriotism, laughter, grassroots movements and change ~ these themes in LYSISTRATA are as relevant today as they were 2500 years ago. Unfortunately, we weren't able to stop our own nation's ongoing wars in the Middle East, but we had a lot of fun trying!
"This splendid 90-minute production of a fast-paced contemporary adaptation bodes well for the future of this newest Indianapolis-based theater company" Rita Kohn, NUVO
Oracle of Delphi
In the center of ancient Greece was the holy city of Delphi.
In the mountains above Delphi was a sacred Temple dedicated to the god Apollo.
In the center of the Temple was an Oracle channeling his prophesy.
Now, the Oracle of ancient Delphi returns to her temple gardens to bestow the wisdom of Apollo once again. The ancient Pythia, or prophetess, was the embodiment of light and enlightenment…she was the voice of Apollo as well as the embodiment of goodness. Step up to the Oracle, and take a step back in time!
Please contact us if you are interested in bringing this mobile, interactive theatre performance to your location or event.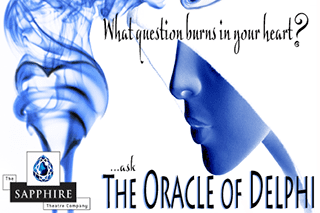 WARMfest 2013
The Sapphire created the White River Man & Maiden and Carl G. Fisher characters for the inaugural WARMfest in Broadripple Park. Proceeds from WARMfest benefit the Carl G. Fisher Society, a non-profit whose goal is to restore the waterfront of Broadripple.
American Advertising Awards (ADDY's)
Alice in Wonderland" was the theme of the 2014 American Advertising Awards. In addition to bringing the White Rabbit and stilted Alice and Mad Hatter characters, The Sapphire created a rabbit hole entrance-way, a reception room of Wonderland doors, and a photo-opp miniature room with tiny props that guests could climb inside of to get the full oversized-Alice experience!