LongBranch – 2205 N DELAWARE ST. INDPLS, IN 46205 – 317-602-6726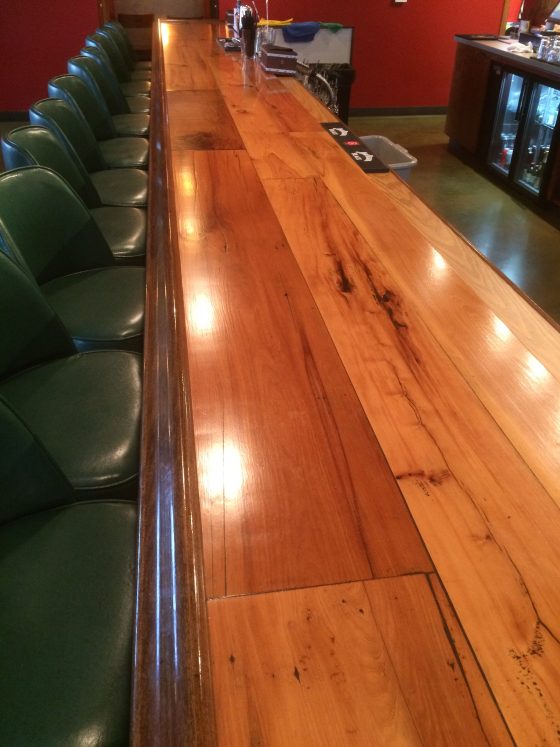 So, "A Theater Company walks into a bar…" No, it's not a joke. But, you may ask, "Why is a Theater Company building a bar?" Well first, let me tell you the story of how this bar was made.
On a hot July afternoon in southern Indiana, I had the pleasure of climbing around in an old, dusty, tractor filled Barn that had been in the owner's family for decades. Don, Dave, Kait, Scott and I were there to select the perfect pieces for the Bar at LongBranch. I got to hand pick the grey, heavy, rough-sawn, 12-16 ft long hardwood boards from the hay loft; the least warped, fewest cracks. We also pulled some short and wide, non-essential boards along the side walls and stalls to fill out our cache. We cut the long, curved boards in half, loaded up the truck, then cooled off over lunch before heading back to Indy and delivering the barn wood to the Sapphire Studios.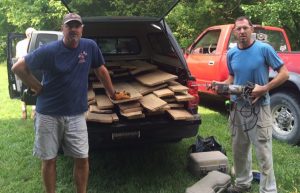 This wood spent over a hundred years in that barn, baking and freezing in the Indiana weather. And that was after it spent decades living in Nature. After cleaning and sorting the wood, we selected the best boards for the bar, the mirror trim and valance.  For the Bar Top, the most beautiful grain and colors were assembled from the oak, poplar, beech, hickory and elm.  If this old wood could talk, it would have a million stories to tell. And, now it will play a role in many more stories that people share a they sit, sipping cocktails and running their fingers over it's centuries old grain. This beautiful, unique, new Bar with a long history, along with the 27' long Community Table, the Banquette and the brushed, metallic gold accent walls create a "setting" for people to meet, eat, drink and share stories, conversations with friends and family, and new acquaintances.
Theatre is a physical space, animated by people, sharing stories, memories, dreams, and ideas. At The Sapphire, our mission is to contribute to the cultural growth by bring the Theatrical Arts to people wherever they are. So go check out the "scene" we created with the great people at LongBranch.
-David Orr